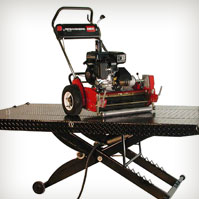 Our GL-9 has been very dependable and has allowed our technicians to become very efficient. We are able to lift all of our equipment and can see the entire undercarriage. We have experienced a significant improvement in the overall quality of our work. We are very pleased with Golf-Lift and can't wait to add our next one.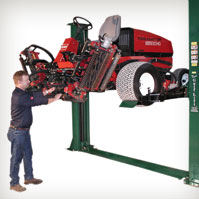 The Golf-Lift lifts more and cost less than the others, and there was a model that fit into my limited space. We installed it ourselves in a few hours, it's outstanding!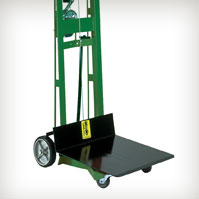 Two years ago, I researched and rated every golf lift on the market and purchased the GolfLift because it achieved superior scores in cost, equipment access for service, and simplicity of use. GolfLift now is the only recommended lift by Granite Golf Corporation and our clients.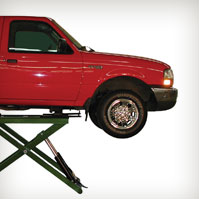 Derek, I will gladly help you out with this. The GL-TL is the best addition to a facility you can get. The weight it picks up plus the daily use is unbelievable. If someone takes the GL-TL I will quit and go home. It has more uses than you can think of. Three walkers fit on it. A triplex fits, and also rotary mowers fit the table with the deck suspended in the air for adjusting or blade changes. If you need to pick up a full size truck just role the lift under it and pick it up. All the gator size carts fit without any problem. Also the flat plate makes reel changes very simple.
The recent purchase of the Golf Lift model GL-TL 6,000-lb table lift along with the GL-12 12,000-lb.four post and the GL-7 7,000-lb. two post gives us three GOLF LIFT'S. The GL-12 will lift every piece of equipment we have from dump truck to hand mower. Its rolling center plate makes lifting three wheel vehicles fast and easy. The GL-7 will also lift all of our equipment. It lifts two greens mowers side-by-side making adjustment fast and easy. The GL-7 gives you complete access to all five units of your fairway mowers making rapid facing easy. I am 6'-2" tall and have no problem working under either of the above lifts. The GL-TL is an auto-truck lift with a custom-made removable aluminum table. It also will lift two greens mowers side by side. I think this lift will become the replacement for the old air-hydraulic table lift. It can easily be moved to a new location at any time. Just roll it to the new spot and plug it in. All of the above lifts have great safety features and are built by a man with pride in his products to give you years of trouble-free service. I am glad I chose THE GOLF LIFT the name says it all.